News and Events
---
On Saturday, April 29th we will be hosting our annual golf tournament at Furry Creek Golf Course. Join us for a round of golf, and a steak dinner at the pub for only $75. Also included is a power cart, and a sandwich and beer lunch. It is always a great time, and we will be giving away prizes! Sign up early, because space is limited.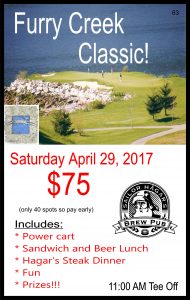 St. Patty's Day is on a Friday this year…
So get your party pants on and come down to the pub to celebrate with us on March 17th! We`ll be doing give aways, and will have festive food and drink specials, including $4 Shamrock Shots, $4.50 Mugs of Green Molson Canadian, $6 Paddy Pints of Guinness, and $6 Jameson Irish Whiskey shots. We will also be serving a delicious Irish Stew all day! 🍀
Sailor Hagar's is sending two Canucks fans to see them play in Edmonton against the Oilers on Saturday, March 18th! Come down for the Canucks games between now and February 25th for a chance to be entered in the draw. Winner receives 2 tickets to the game, flights, accommodation, spending money and 2 jerseys! The upcoming games are Thurs. the 16th at 5:00pm, Sat. the 18th at 7:00pm, and Sun. the 19th at 7:00pm. For more details ask your server.